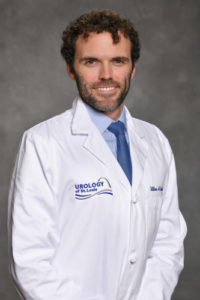 Dr. William Critchlow with Urology of St. Louis in 2019 became the first in St. Louis and the region to offer a new specialized surgery to treat enlarged prostates causing benign prostatic hyperplasia (BPH).
The procedure known as Holmium Laser Enucleation of the Prostate (HoLEP) is a minimally invasive procedure that uses a laser to remove tissue blocking urine flow through the prostate. A separate instrument is then used to cut the prostate tissue into easily removable fragments.
"HoLEP is an innovative procedure to treat really big prostates for which open surgery used to be necessary," said Dr. Critchlow. "I learned HoLEP during my training at Mayo Clinic and it's a privilege that I was the first to utilize this technique in St. Louis.  Men can typically go home the same day or the next day. I do a few every week and it can really make a tremendous difference in patients' quality of life.  It's the recommended treatment for large prostates according to the American Urologic Association and it's great that patients in St. Louis have access to it."
Dr. Critchlow graduated from the University of Missouri Columbia School of Medicine in 2014 and then completed urologic surgery training at Mayo Clinic in Phoenix, Arizona. While there, he became specialized in performing robotic surgery techniques for the kidney and prostate, minimally-invasive surgery for kidney stones, and sub-specialized BPH treatments including HoLEP. Dr. Critchlow has more than seven years of experience treating all areas of urologic care including kidney stones, benign prostatic hyperplasia, as well as kidney, bladder and prostate cancer.