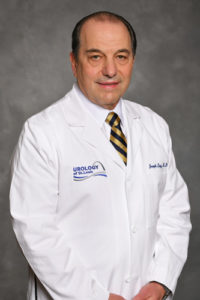 On behalf of the physicians and staff at Urology of St. Louis, we would like to offer Dr. Joseph Levy our heartfelt congratulations on his retirement. Dr. Levy has been practicing urology services for 38 years and on December 31, 2021, he will be hanging up his stethoscope for the final time. It's been our privilege to work alongside him and experience his dedication and the contributions he's made to urology over the years, 35 of which were spent in service to his community in St. Charles County. Our patients at Urology of St. Louis have benefited tremendously from his exceptional care and we're grateful to have had him as a colleague, mentor, and friend for over three decades.
For patients who have appointments scheduled in 2022 with Dr. Levy you may call the office to reschedule with another physician within our group, or someone from Dr. Levy's office will be calling you to reschedule your appointment. If you have any questions, you may call his office manager, Diana Whitman at 636-939-9202. Since your medical records are on file with Urology of St. Louis, when you see one of our other physicians, you will not need to take action concerning your medical records or fill out new paperwork prior to your appointment. If you choose a physician outside of our group, let us know so we can release your records.
Dr. Levy, we wish you the very best of luck in retirement and are thrilled that you'll now be able to pursue your personal interests and most importantly spend more time with family, friends and loved ones. Congratulations!