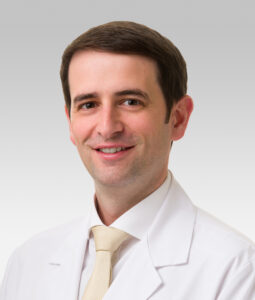 We're thrilled to welcome Dr. Gregory Auffenberg to the Urology of St. Louis team! Dr. Auffenberg is a board-certified urologist specializing in urologic oncology. You can learn more about Dr. Auffenberg and schedule an appointment with him by visiting https://bit.ly/3nFVDuP.
Board Certification
Board Certified – American Board of Urology
Residency
Urology – McGraw Northwestern University Health Center, Chicago, IL
Fellowship
Urologic Oncology – University of Michigan, Ann Arbor, MI
Urologic Oncology Surgery – Memorial Sloan Kettering Cancer Center, New York, NY
Clinical Focus
Urologic oncology, prostate cancer, kidney cancer, testicular cancer, bladder cancer, laparoscopic and robotic surgery, evaluation of PSA elevation, blood in urine
About Dr. Auffenberg
Dr. Auffenberg is originally from St. Louis with deep family roots in the area. He is thus a huge fan of all things STL. After graduating from SLUH (to get the famous St. Louis question out of the way), he completed undergraduate studies at Boston College and then medical school at Northwestern University. Following residency training in urology at Northwestern, he pursued three years of advanced training in the management of prostate, bladder, kidney, testis, and other genitourinary cancers that took him to the University of Michigan and Memorial Sloan Kettering Cancer Center in New York City. He was on the faculty at Northwestern's Feinberg School of Medicine for three years after completing training where his clinical practice and research focused on urologic cancer. He is passionate about partnering with patients to help them work to solve whatever issue they are facing. Dr. Auffenberg recently moved back to the St. Louis area with his wife and three children and is very excited to return to this great city. His primary practice focus is on the management of urologic cancers with advanced endoscopic, minimally-invasive, robotic, and open surgical strategies.