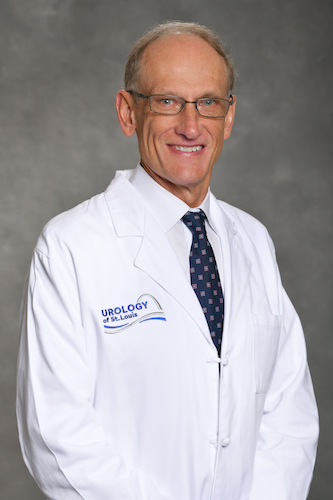 Education
St. Louis University, St. Louis, Missouri
Bachelor of Arts
University of Missouri, Columbia, Missouri
Doctor of Medicine
Residency
Urologic Surgery – University of Missouri, Columbia, Missouri
Internship
General Surgery – University of Missouri, Columbia, Missouri
Board Certification
Board Certified – American Board of Urology
12855 North Forty Dr
South Tower, Suites 350 & 375
St. Louis, MO 63141-8635
Good Doctor and Good Listener
What I like about Dr. Lovinggood besides being a very good doctor, he's a very good listener!
Dr. Lovinggood makes you feel like you can trust him to do the best he can to correct your medical issue.
He's been a very good doctor to go to and was exceptionally thorough looking for other potential problems during my surgery.
Wonderful doctor. Very smart and caring. Listens to everything.
Thrilled with My Treatment
I chose Dr. Lovinggood to do my penile implant replacement surgery and I'm very happy with my decision. The staff at Urology of St. Louis is second to none and I am thrilled with my treatment and results so far.
Professional and Knowledgeable
Dr. Lovinggood is an excellent doctor and he's very knowledgeable and very professional. I'll most definitely recommend him to anyone. He does an excellent job with his patients.
Thorough and Knowledgeable
My visit with Dr. Lovinggood was great, he's always thorough and knowledgeable and very honest with my situation. I'm happy that he's my Urologist.